I was very excited to try the
2005 Laurel Glen Counterpoint Cabernet Sauvignon, Sonoma Mountain
with last night's tri-tip. Unfortunately, it was corked. Truly a shame as I could tell there was a lot of gorgeous cedar, licorice and currant in there. But the moldy "wet cardboard" just couldn't be ignored. I guess I'll pick up another and hope for better results.
What are your experiences with corked wines? Do you come across them with any great frequency? I'm pretty sensitive to TCA and I've turned down a lot of wines that I've seen others enjoying. But I still encounter way too many bottles like this. Last time I read anyting on this, industry estimates put the number of TCA-affected bottles at 3-5%. I think that's completely unacceptable. Can you imagine breweries releasing 3-5% of their beer without any carbonation? Would the beer-drinking public just take it in stride? How about 3-5% of all beef coming from the butcher spoiled? 3-5% moldy cheese? Seriously, what kind of industry can accept a 3-5% failure rate of its product?
Say what you want about artificial closures potentially affecting agability, but I'm 100% behind any closure that guarantees a TCA-free drinking experience. Screw cap, glass plug, zork, plastic cork - you name it. I never have to worry about wet cardboard showing up with a wine under one of these closures.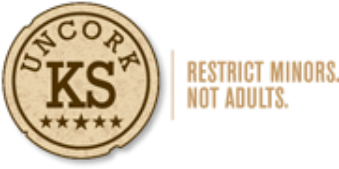 Switching gears to something much more exciting than the aroma of wet cardboard, I'd like to encourage all of my readers in Kansas to sign the
Uncork Kansas
petition. For the first time in forever, there's a realistic chance that the Kansas legislature could vote to get rid of some of the Puritanical laws handcuffing Kansas wine retailers. For example:
• It is currently illegal for Kansas grocery stores and convenience stores to sell beer or wine coolers (are those things still around?) with more than 3.2% alcohol. For comparison, most beer sold in liquor stores contains 5-6% alcohol. If a brewery doesn't want to brew a special, low-alcohol batch, then it can't sell in Kansas grocery and convenience stores. This law applies to stores like Costco and World Market, too, who cannot sell anything other than 3.2 beer in their stores in Kansas.
• Right now it is illegal to sell mixers, corkscrews, gift bags or any other non-alcoholic item alongside beer, wine or liquor in a package store. You can sell it, but it has to be rung up on a separate cash register in a separate room with a lockable door on the premises. If you come into my store to buy a bottle of wine as a gift, I have to ring up the wine on one register and then walk next door to our "party shop" and ring up the gift bag separately. Same goes for a bottle of gin and a bottle of tonic water at a Kansas liquor store. Do any other states have such a requirement?
• Right now it is illegal for any retailer to sell or give away samples of an alcoholic beverage to any customer on the premises. So no sampling of the goods in Kansas retail stores. It's even technically illegal for distributor reps, winemakers or importers to pour samples for employees of the retail store! This happens, of course, but it always takes place in hushed tones behind a locked office door.
The way I see it, the only parties truly benefitting from these Draconian laws are the alcohol retailers that line the street on the
Missouri
side of the Kansas/Missouri state line. Missouri retailers can pour whatever samples they want and their grocery stores can sell beer, liquor and wine as they see fit.
So if you live in Kansas and have any interest in bringing our laws up to 21st century standards, I encourage you to sign the petition. Hell, even if you don't live in Kansas go ahead and sign it just to help your friendly wine blogger out. (When I signed the petition it didn't ask me where I live.)