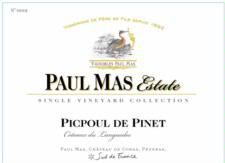 What happened here? I've had the
2009 Paul Mas Estate Picpoul de Pinet, Coteaux de Languedoc
a couple of times over the past few weeks, but it's always been in the midst of a large crowd or family dinner when taking notes just wasn't practical. Now that I get a chance to spend some quality time with a bottle it takes a decided turn for the worse. Whereas previous bottles have been light and lively with lovely floral/peach/apricot/mineral aromatics and flavors, this bottle seems dull and lifeless with odd earthy/truffle notes and no acidity to speak of. Comes across as much heavier than previous tastings as well. It's like someone took my spry New Zealand Sauvignon Blanc and replaced it with a tired, old California Chardonnay. A perplexing $15.
I almost hesitate to make this post as I
know
this note isn't indicative of this wine's potential, but I'm recording it for posterity anyway. Based on how good this wine has been to me in the past, I'm recommending it despite tonight's unflattering review.
I was inspired to open this tonight (I thought it would have lots of pretty citrus notes) based on the rub I applied to a whole chicken before roasting. I took some fennel seeds, kosher salt and black pepper and put it in a spice grinder with some fresh orange zest. Then I stuffed it under the loosened skin and roasted at 400 degrees until done. The chicken was delicious. I wish the wine had been as good.