It's always a good time when my father-in-law comes for a visit. He's one of the people responsible for sparking my interest in wine nearly 20 years ago and we still enjoy tasting wines together. Here are a couple of wines we had last week:
2010 Willow Crest Estate Grown Pinot Gris, Yakima Valley
- Complex yeasty, smoky, melon aromas and flavors with bright acidity. Unfortunately, this bottle was marred by a slight spritz. Still, a great bargain at $12.
Two Pinot Noirs with pork tenderloin. The tenderloin was scored and marinated in somethiung resembling a thick Teriyaki sauce and then grilled just past medium.
2009 Block Nine

Caiden's Vineyard

Pinot Noir, California
- Dark cherry flavors and aromatics with sweet herbs lurking in the background. Seems a touch alcoholic, but not enough to be a distraction. Another outstanding value that clocks in around $12.
2006 Yering Station Pinot Noir, Yarra Valley
- More fruit forward than most of the Pinots that I've had from Down Under, but still quite herbaceous for my palate. Quite a bit of cherry/menthol cough syrup. Very acidic. Not my cup of tea.
2008 Quinta do Alqueve Fernao Pires, DOC Ribatejo
- Having never even heard of the Fernao Pires grape, I had no idea what to expect from this one. Color of a typical Sauvignon Blanc. Quite peachy, floral and buttery on the nose with rich, buttery, minerally flavors following through on the palate. Hint of melon. Considerably richer than I thought it would be. Slight, pleasant bitterness on the long, oily finish. This was a really fun wine that mt father-in-law picked up for $6 or $7 at Binny's in Chicago.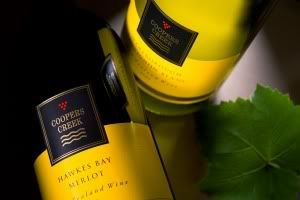 2007 Coopers Creek Chardonnay/Viognier, Gisborne
- A blend of 75% Chardonnay and 25% Viognier. Beautiful color. Nose of ripe apple, peach and flowers. No noticeable oak. Slight buttery note on the palate. Sweet, rich fruit. Oily texture, hint of match stick on the finish. Holding on nicely for a wine of such modest upbringing. Refreshing summer quaff. How can New Zealand get Sauvignon Blanc so wrong (simply too herbaceous for my palate) but continue to make such nice wines from Chardonnay, Viognier and Gewurztraminer?
2008 Koehler Viognier, Santa Ynez Valley
- Something of a one-trick pony. Beautiful nose of ultra-ripe apricot, but that's about all there is. The Palate is quite rich and oily with the aforementioned apricot flavors. Quite bitter on the finish. You can definitely feel the 14.7% alcohol on the finish.
Wednesday night's dinner was spatchcocked chicken stuffed with a fresh rosemary and sundried tomato butter smoked over cherry and apple wood. In a word - stunning. Accompanied by a home made sundried tomato risotto and grilled asparagus. We opened a couple of Pinots to accompany: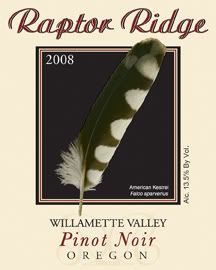 2008 Raptor Ridge Pinot Noir, Willamette Valley
- High-toned notes of sweet/tart cheery and herb with a touch of skunk/road tar. Rather light on the palate with sour cherry flavors and assertive acidity. Not a very good showing for this bottling.
2009 Pietra Santa Pinot Noir, Cienega Valley
- Beautiful, Grenache-like aromas of sweet raspberry and underbrush. Medium-bodied with more raspberry, herb and spice flavors on the palate. Bit bitter on the finish. Not exactly a typical Pinot Noir flavor profile, but tasty nonetheless.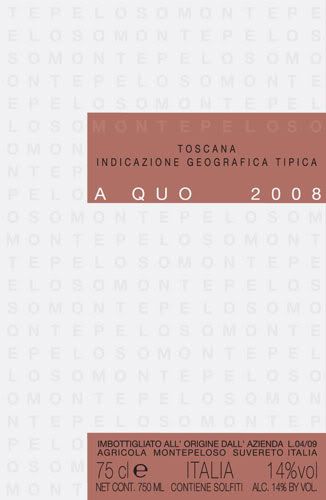 2009 Montepeloso

A Quo

, IGT Toscana
- Starts off with some really weird briny/green peppercorn/wintergreen aromas. With some air, most of that blows off and you're left with some interesting raspberry/wintergreen aromas that follow through to the thin, tart palate. Rather alcoholic. This blend of (mostly) Sangiovese and Cabernet is getting some really nice reviews in the press, but it didn't click with me at all. Certainly doesn't speak of Tuscany. A very disappointing $25
2008 Cupcake Vineyards Petite Sirah, Central Coast
- Call me crazy, but I really like this wine. Warm blackberry and blueberry aromas punctuated with fresh-cracked black pepper. Medium-bodied and spicy on the palate with more of the aforementioned dark fruits and some light chocolate flavors. Everything you could want from a sub-$10 "burger wine."
2008 Alexander Valley Vineyards

Sin Zin

Zinfandel, Alexander Valley
- Makes no attempt to disguise the 14.4% alcohol. Deep color. Alcoholic, briery, raspberry nose. Copious raspberry and pepper on the thin, acidic palate. About $12
2009 Dona Paula

Los Cardos

Malbec, Mendoza
- Pretty, plummy, spicy entry level Malbec with plenty of pepper and fruit on the palate. Nice acid and tannin provides balance.

2009 Four Vines

Old Vine Cuvee

Zinfandel, California
- Continues to impress with its blueberry and raspberry flavors and bright, peppery texture. Despite the decadent fruit, the wine in nicely balanced by the tannin and acid. Just a hint of oak.
Really
over-delivers in the $10-12 price range. Perfect with spare ribs off the smoker.