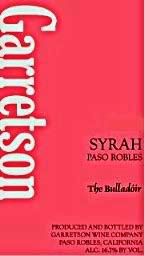 With the wife out of town for the weekend, I thought I'd indulge myself in a couple of things she doesn't particularly care for: lentils and overripe Central Coast Syrah. Dinner was brown lentils and sun-dried tomatoes simmered in homemade chicken stock and topped with a store bought chicken sausage with sun-dried tomatoes and four cheeses. Upon visual inspection, the
2002 Garretson

The Bulladoir

Hoage Vineyard, Paso Robles
still shows an impossibly dark color and concentration. The nose also hints at a similar level of concentration with soy sauce, Asian spice, blackberry jam and French oak filling the glass. The palate is dominated by thick, overripe blackberries, licorice and French oak. Very Port-like. Quite low in acid (and I would expect nothing less from Mat Garretson), this isn't for everyone. In fact, if you aren't a fan of those late-90s Australian Shiraz bombs, I'd say stay far away from this wine. Finish seems a bit short and alcoholic. On its last legs. If you have any of this in your cellar, I would recommend drinking it now. Furthermore, I think it compliments sun-dried tomatoes quite well.
I was a member of Mat's wine club for a number of years and always bought a bottle or two of the luxury-priced
Bulladoir
Syrah each year because of the story behind it as well as the quality of the wine. Mat, a University of Georgia graduate used to purchase these grapes from Terry Hoage, a former All-American football player at the University of Georgia and Paso Robles grape grower. The UGA connection was irresistible to me. Mat has since left the wine making business and now sells wine in Minnesota.
Terry Hoage
, however, now has his own winery in Paso Robles and makes exceptional Syrah, Grenache, Rhone-style blends, rose and white wines from Rhone varietals. I also bought from Hoage for many years until the prices got a bit out of my comfort zone. I highly recommend Hoage's wines if they are in your price range.