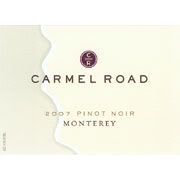 Bought the
2007 Carmel Road Pinot Noir, Monterey
on a lark and opened for dinner guests on Saturday. I thought this was a pretty dense, smokey take on Pinot that also featured a lot of nice raspberry and hickory flavors. Picks up a bit of herb/sage on the finish. Great wine with the food. Not my
favorite
$20 Pinot Noir, but I wasn't at all disappointed.
My wife's boss always keeps us well-stocked with pheasant that he shoots in Iowa. Someday I'd like to go hunting with him, but that's another blog.... On Saturday I wrapped the breasts in apple wood smoked bacon and smoked them for about 35 minutes over charcoal with a few apple wood chunks. Earlier in the day, I took the breastbones and made them into a pheasant stock that I used to make a risotto while the breasts were smoking.
The risotto itself was made with red wine and the aforementioned pheasant stock. At the last minute, I wilted some shredded radicchio in (with butter and Parmesan, of course). All in all, it was a pretty fantastic meal.