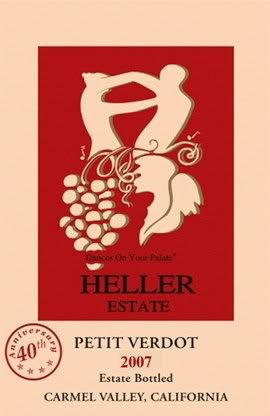 In the spring of 2009 my wife and I spent a glorious week touring the wineries of Carmel Valley and Paso Robles with her sister and her sister's husband. The very first winery we stopped at was Heller Estate based on a recommendation from Ridge Watson, winemaker at Joullian. A few months earlier he had told me: "If you like Petit Verdot, you have to stop at Heller because they make the best."
Well, my sister-in-law was in town this weekend so I thought it would be an appropriate time to open one of the few remaining bottles of the 5 cases of wine we brought back from the trip. Dinner was marinated tri-tip grilled over charcoal and served with a zesty charmoula sauce. It turned out to be quite a nice pairing.
The
2006 Heller Estate Petit Verdot, Carmel Valley
displays the inky black color that one would expect from this varietal and shows you why this grape is routinely added to add depth to the color of Bordeaux-style blends. The wine is quite murky (nothing wrong with that) as it receives a light fining and no filtration. The nose reveals layers of smoke, seasoned French oak, blackberry and graphite with black pepper and chocolate playing supporting roles. Firmly acidic. Not as tannic as I thought it would be, this is beautiful to drink now but can certainly age for another decade. A bit pricey at $40.