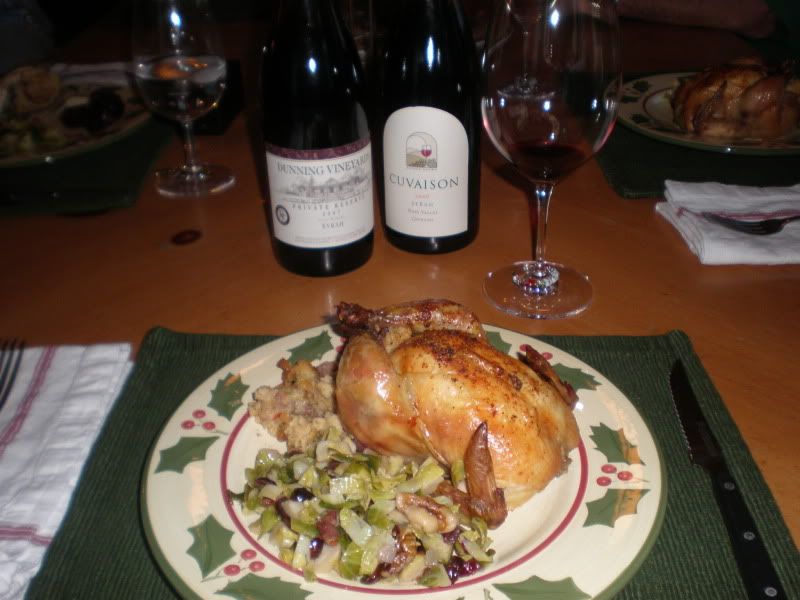 2006 Cuvaison Syrah, Carneros
- Ridiculous raspberry liqueur and white pepper notes on the nose. Little bit of roasted coffee in there, too. Still fiercely tannic with white pepper and tart raspberry notes on the palate. Color hasn't faded a bit. 14.5% alcohol is not an issue. With the fruit concentration, I think this wine could easily hold on for another 5-7 years. A very reasonably priced $32 from a very underrated California producer.
2007 Dunning Vineyards Syrah, Paso Robles
- Nothing new here. No sign of age in the glass. All of the stunning licorice, blackberry and dark, dry cocoa that I have come to expect from this wine. Beautifully balanced interplay of acidity and tannins suggest this one also has a long life ahead of it. I have two of these left in the cellar in addition to a few bottles each of the 08 and 09 vintages. About $35
Tonight's dinner was roasted Cornish game hens stuffed with a Cajun-inspired stuffing of sausage, cornbread and aromatics. Braised Brussels sprouts with dried cranberries, chopped walnuts and applewood smoked bacon also graced the plate. A terrific meal fit for the holiday season.