For my Father's Day dinner, I grilled a couple of pork tenderloins rubbed with Italian herbs over charcoal. As the pork was grilling, I made a basic risotto. Right before the risotto was done, I stirred in some ribbons of beet greens just until they were wilted. Overall, an excellent meal. The pork was grilled to perfection and I love the earthiness the beet greens added to the risotto. I need to explore more options for beet greens.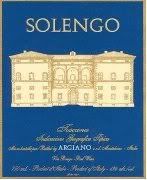 The wine I selected for the meal was the
1998 Argiano Solengo, IGT Toscana
. The first four vintages of this proprietary blend were 25% each Cabernet Sauvignon, Merlot, Sangiovese and Syrah. (Since 2000, it has been a Cabernet Sauvignon/Merlot blend.) I bought a few bottles each of the '96, '97 and '98 on release and this is the last of my small stash. Any notes I have from previous bottles are lost on files on older computers, but I don't recall being particularly impressed with any of them. This bottle, from the weakest vintage I bought, shows an advanced, brick-red color. Very woody, cedar-like nose with hints of licorice and mineral. Nearly devoid of fruit, the palate is all about Tuscan terroir of dusty licorice and road tar. Still very tannic with nice acidity to balance. Picks up some leathery notes on the finish. But at the end of the evening, this is a rather simple, tannic, cedary wine that smells and tastes like a cigar humidor. About $60 on release.