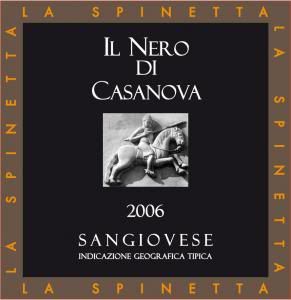 We had something of a double celebration today as we were excited about Mother's Day as well as our first mini-harvest from our organic garden. We've got everything from soybeans and garlic to blueberries and asparagus to heirloom tomatoes and planted, but our first clipping of the season was the
intensely
peppery arugula that we had so much success with last year. If you enjoy arugula from the grocery store, you have no idea just how good this stuff is! Anyway, our favorite treatment for arugula is to toss it with a lemon vinaigrette and shaved Parmesan cheese and use it as a bed for thick-sliced, grilled ribeye steak.
The wine of choice for the meal was the
2006 La Spinetta

Il Nero Casanova

Sangiovese, Toscana
. Unfortunately, while nice, it didn't live up to the lofty expectations set by the
last time
I had this wine. The color is still nice and dark; especially considering the varietal. And there's still a bit of licorice on the nose. But it has lost a considerable amount of concentration and "baby fat" and turned into a much more restrained example of the grape. In addition to the light licorice, the nose also features carob, light blackberry and some primal/yeasty aromas. On the palate, the notes are limited to to meager black fruits and a distressing yeasty/musty taste. This bottle clearly lacked the bold fruit and definition of previous bottles. Still has good acidity, moderate tannins and lots of dust on the finish.
I would buy this again for $25 based on the strength of previous bottles. But this one didn't deliver for the money.