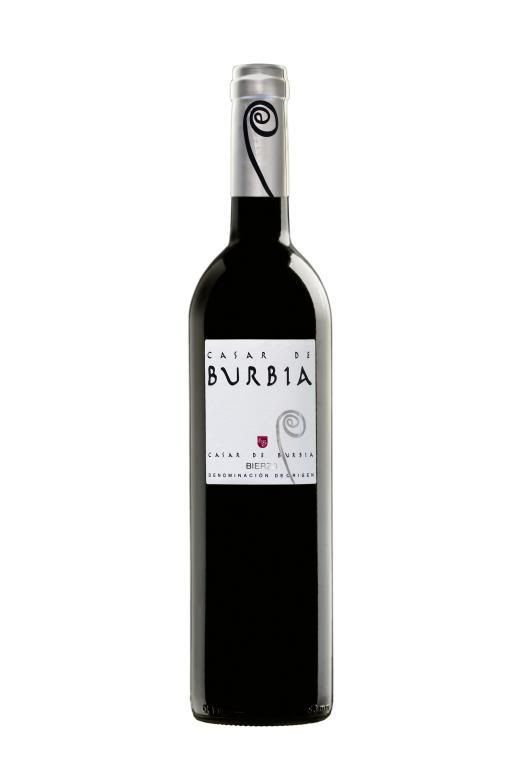 The
2006 Casar de Burbia, Bierzo
was quite a treat tonight with a eaty paella cooked over an open flame. The nose is dense with rustic notes of brier, bramble and wild berry with hints of roasted coffee and licorice. The wine is made from 100% Mencia grapes and according to the
website
it is aged in American (Missouri) oak barrels for 8 months. Oddly, the bottle says the wine is aged in a combination of American, Hungarian and French oak. Regardless, the American oak becomes more prominent with food, but it never ventures into that nasty dilly arena. The Bourbon aromas and flavors are definitely there, but the wine has more than enough weight to carry them well. The palate is thick and tannic with chunky, chewy cocoa and dark berry flavors and nice, balancing acidity. Just a wonderful texture. Finishes with chalky tannins and a slightly saline flavor reminiscent of a good Albarino from the neighboring Rias Baxias region. A grape and a region worth paying attention to. About $30.
Dinner tonight was paella that I cooked outside over charcoal. I knew we were in for another dose of old man winter, but sometimes you just have to man up do what needs to be done. So I braved the flurries and managed to make one hell of a good paella before the white stuff started to accumulate in earnest. For those of you who are interested, I present this brief tutorial on how to make a paella without any fresh tomatoes or *gasp!* saffron!
The raw ingredients:
What you see here, clockwise from left, is a whole chicken cut into bite size pieces (made fresh chicken stock from the carcass), a few links of Spanish chorizo (Andouille will suffice in a pinch), strips of bell pepper, a few diced sun-dried tomatoes, half an onion, a few cloves of garlic, and some fresh chopped parsley. I would normally have fresh, chopped tomatoes, but I was woefully unprepared for dinner tonight and it's a 20 minute drive each way to the nearest grocery store. I'm also, sadly, fresh out of saffron so I had to make do without. The chicken has been marinated in olive oil, salt, pepper and smoked Spanish paprika.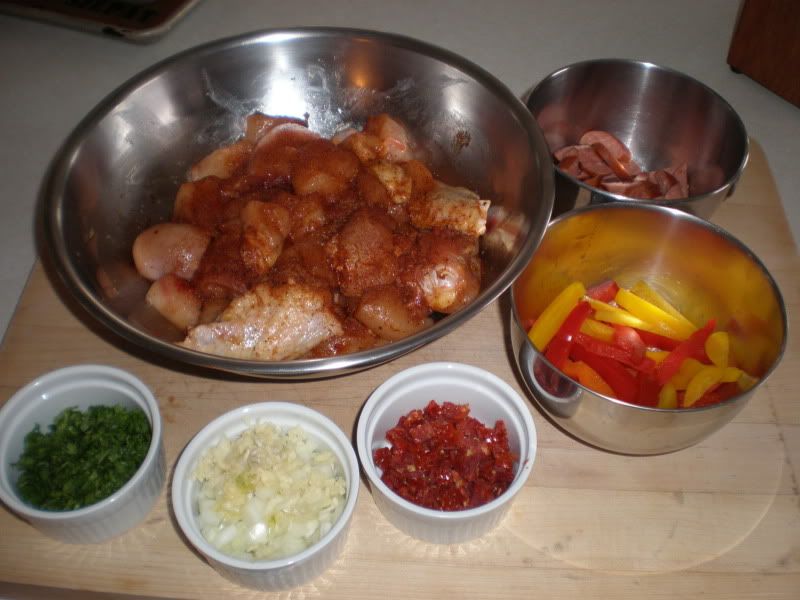 The technique:
The first step is to brown the chicken well in olive oil over a hot flame. Just get a nice sear on it for some color and so the chicken fat lends some flavor to the pan. When it is cooked about halfway, remove the chicken to a bowl and add the onion, garlic, tomatoes and sausage to the pan. Cook this until the tomatoes start to break down and you have a thick paste. This is what the Spanish refer to as a
sofrito
: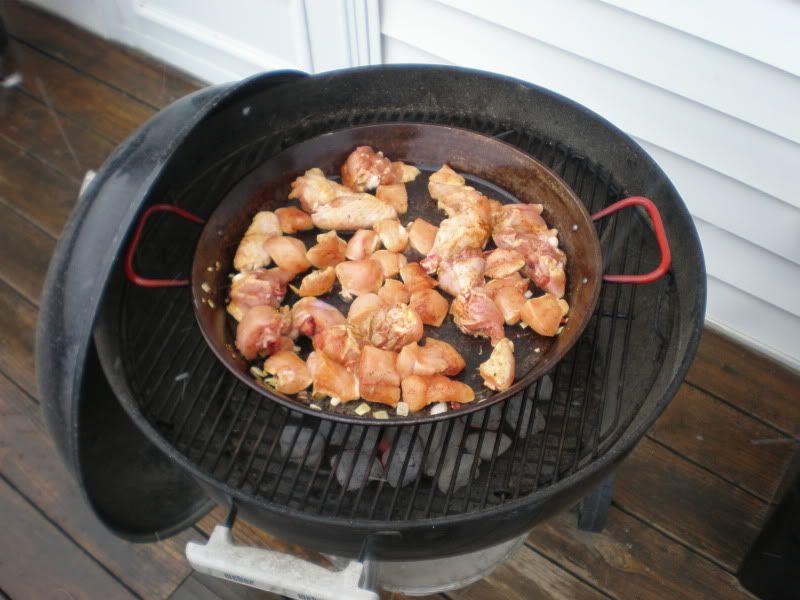 With your
sofrito
still in the pan, you'll want to add your rice. Bomba rice from Valencia is the real stuff, but if you can't find it, arborio (risotto rice) is a pretty decent substitute. For this recipe, I added 12 ounces of arborio. You may or may not want to add a bit more olive oil to your pan: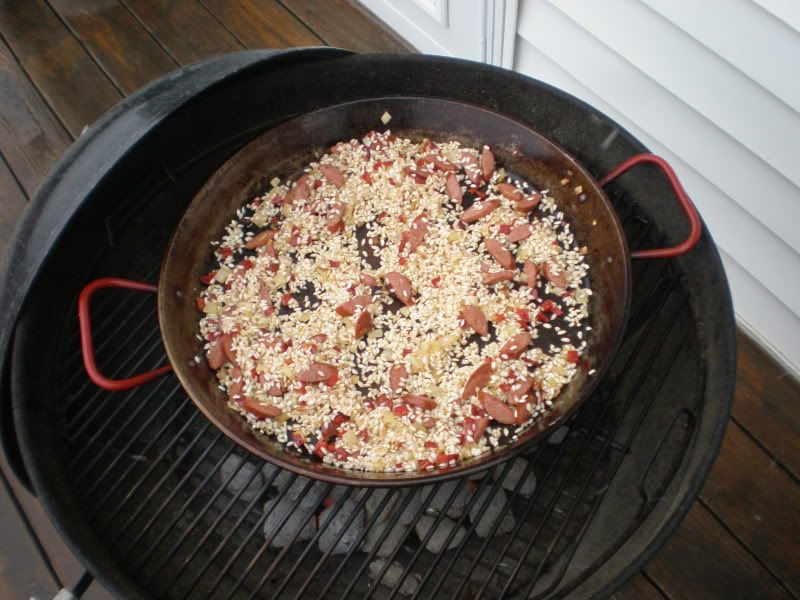 When the rice is coated in olive oil and slightly toasted, return your chicken to the pan and add 2-3 cups of chicken stock; preferably home made. Stirring frequently, let the rice absorb the majority of the stock. Then add another 2-3 cups and your strips of pepper:
Cover the grill (If you're cooking indoors, you could cover your paella pan with foil now and shove it in a 400 degree oven) and let it cook for about half an hour or until the rice is tender, yet still has a nice texture. It should look something like this:
Now take the top off of your grill for maximum air flow and get the heat up as high as you can for a few minutes. This will add some color to your dish and help form a crispy crust of rice (the
socarrat
) across the bottom of the pan. And here's the finished product garnished with a bit of fresh chopped parsley: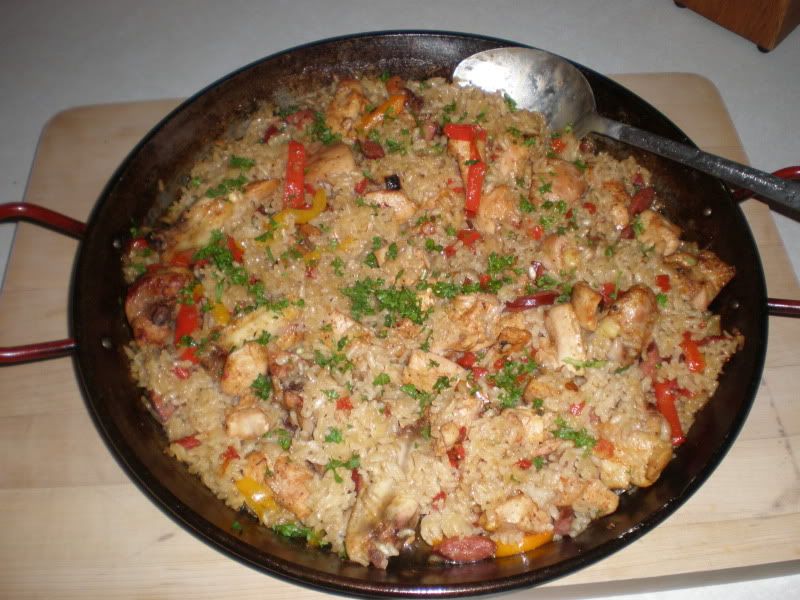 You'll notice there's no shrimp or seafood in my basic paella. There are a number of reasons for this:
1) Meat and shrimp is not a traditional Spanish paella. According to noted Spanish cookbook author Penelope Cassas, chicken, sausage and shrimp is a very Americanized version of the classic dish.
2) I think most attempts at pairing red wine and shrimp are disastrous. The iodine in shrimp and most other shellfish will make a full-bodied red wine taste metallic. If you insist on adding shrimp to your mixed paella, you might want to stick with white wine or bump up to a rose.
3) I'm allergic to shellfish so even if 1 and 2 weren't true, I still wouldn't have any shrimp (or squid or snails) in my paella!