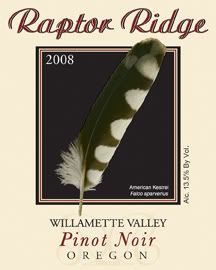 2008 Raptor Ridge Pinot Noir, Willamette Valley
- Dark garnet color. Darker than most entry level Pinot Noirs. Nose starts off with loads of black cherry, black pepper, licorice and a bit of hickory/oak. Smells more like a light-bodied Syrah than a Pinot Noir. The palate is medium-bodied with earthy, Pinot-like flavors of truffle and sage with the aforementioned black cherry always lurking in the background. Nice acidity and just enough tannin to provide balance. This is a powerful Pinot Noir for $20 and will probably reward a couple of years in the cellar.
Dinner was a play on the traditional Thanksgiving meal with roasted chicken (rubbed down with Penzey's Bavarian seasoning and kosher salt), cornbread dressing (spiked with corn and sausage) and a green salad. A lovely meal to accompany a lovely Oregon Pinot Noir.